Spikenard & Myrtle TLC Cream
Spiritual Significance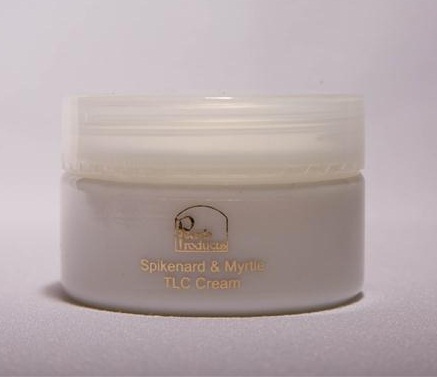 John 12:3 "Then took Mary a pound of ointment of spikenard, very costly, and anointed the feet of Jesus, and wiped His feet with her hair, and the house was filled with the odour of the ointment."  Today, the same odour will permeate the atmosphere every time this precious TLC (tender, loving, care) Cream is used. We need to fill the atmosphere with the fragrance of our extravagant worship & passionate love for God.
The gesture of Mary of Bethany is such an excellent example of how personal and tangible love should be. Love is not something that should be expressed in a far off way. We need to show our love and not just speak it. A meaningful touch is one of the most powerful ways to express love without saying a word.
Suggested Uses
Recommended as an essential daily grooming product, for men, women and children, to deeply nourish skin.
TLC Cream is a unique and innovative concept in modern skin care because it is formulated to serve as a facial moisturiser as well as a body cream.
Recommended for salons as part of a professional manicure or pedicure.
This extraordinary product makes a heart warming and meaningful gift.
The Hand & Foot Wash and TLC Cream can be paired together to form modern day tools for spiritual foot washing. Refer to John 13:4-15.
Features & Benefits
Contains pure medical grade lanolin which acts as a super-moisturiser as well as extra-virgin olive oil, rich in antioxidants to assist in preventing skin cell aging.
The essential oils of Spikenard and Myrtle are natural plant extracts or so called essences. These fragrances are a healthier alternative to the synthetic fragrances found in most cosmetic products.
Spikenard is not only known as one of the most expensive and rare perfuming ingredients of all time, but is also revered as an ointment, because it has excellent therapeutic properties. It calms and soothes itchy skin and acts as a skin tonic to restore a healthy complexion.